"Stop doodling and concentrate!" may be a familiar refrain from your school days. However, evidence suggests that doodling may actually help you focus and visual learning appraoches can be powerful educational tools. As a result, sketches are becoming an important means for communicating scientific research. We recently came across the work of Cirenia Arias (aka ScienceSketcher) and we caught up with her to learn about how she got into skecthnoting and to gather a few tips of how you might be able to start yourself.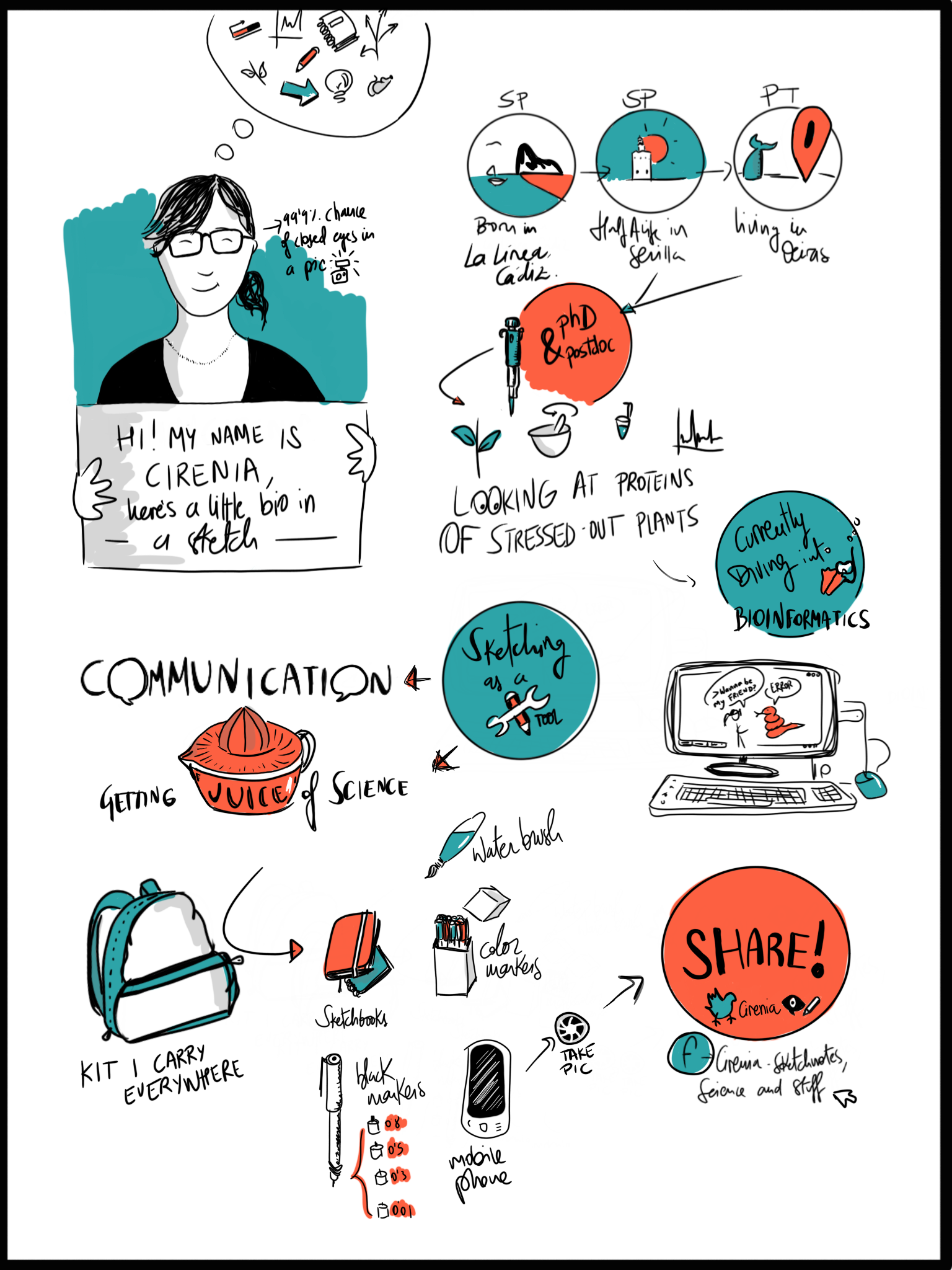 Thanks for taking the time to speak to us, how would  you describe your work?
I mainly make visual abstracts trying to capture the essence of talks. My goal is to sketch the main ideas, and put them together in a friendly, easy-to-share, but at the same time rigorous way of communicating science. I also sketch for promoting or recording events in a graphical way, or to illustrate other colleagues ideas.
How did you got started? Where did the idea come from?
This is kind of a tricky question. [I] started .. sketchnoting, I would say, many years ago, although I was not aware that "Sketchnoting" was a thing … I always enjoyed making drawing notes during high-school and onwards. Images or doodling always helped me to stay focused and remember more.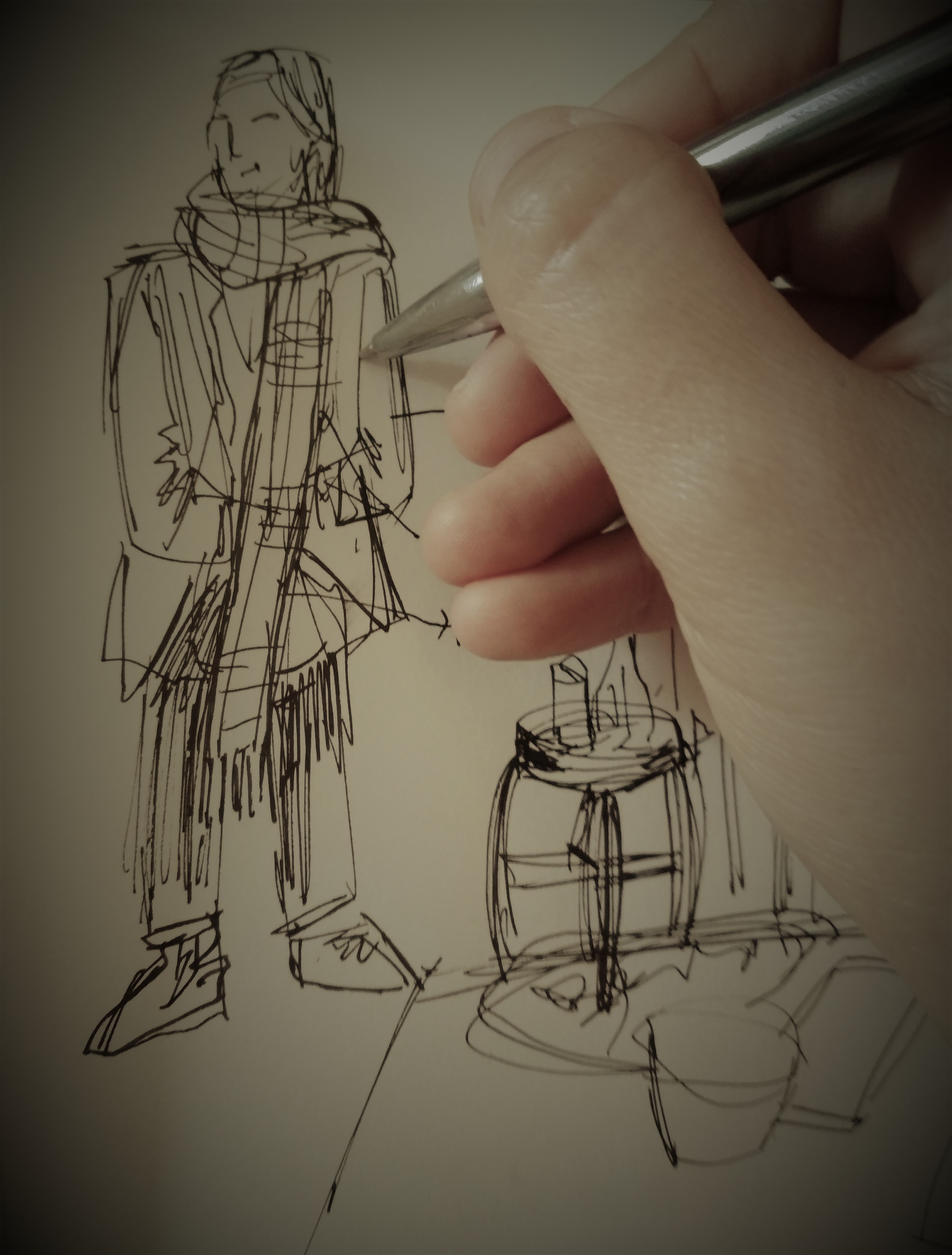 But it was a year ago, when I thought about starting to share in social media the sketchnotes I used to take. It was after thinking for a while that it would be a nice idea to give an extended impact to people's effort in communicating their research.
Your skecthes look great! do they take a long time to do? and do you make them live, or do you work them up afterwards?
Thanks a lot, glad you like them! I mainly do them live, so it takes the time of the talk. Sometimes, I share them immediately, raw, as they are, with crossed out words, corrections in spellings, or any kind of "accidents" like a rebel ink spot out of place, cause the point for me is not making something "perfect", is just sharing. Other times, I make small add-ons a bit later. Occasionally, if I'm pursuing a more complex structure, or if the goal of the project requires it, I make it in two steps, first taking notes of everything, and then shaping the sketchnote or the illustration. Also, there is some extra-time needed to invest behind the curtains, trying new tools (digital or 'old-style'), playing around with lettering, scanning and processing images, maintenance of social media sites, and network interaction also requires time and effort, is not just sending a message and let it go with the wind, but it's fun, and science right now need us to be a strong community.

I notice you also do whiteboard videos, can you recommend any resources for those wanting to give it a try?
There are mainly two ways of preparing a whiteboard video:  grab a camera (you can start with your telephone, no need to look for super-expensive equipment to give a try), draw yourself drawing, then use any video editor to edit the recording (crop, speed up, background music..).
There are also plenty of software [packages] to make a whiteboard animation video. Many of them are available in trial versions that you can test, and see which one is better for you… (same applies for video-editors).
In any case, work first in the script, think well which is the story you want to tell! Personally, I invest good time in this part, just making some sketches for every-step of the story, not detailed at all, thinking in the message, designing 'the big picture', re-reading the script several times, once I have this clear, I go to the process of focusing in every illustration and the animation. The better you stop to think first, the better the creative part will flow! … Watch other illustrators' work, see what you like, see what you don't, then forget about everything and create yours!!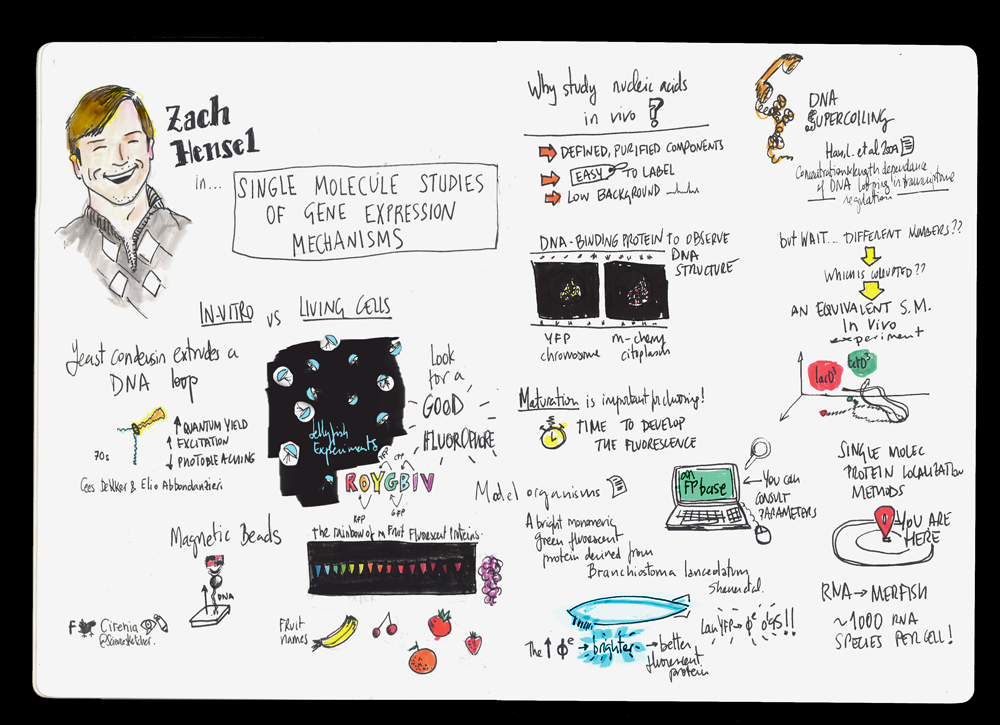 What part of sketchnoting do you particularly enjoy?
All step[s] of the process, really.
On the one hand, sketchnoting helps me to get the most [out of] of every talk. Also,  I've been broadening my knowledge as a researcher, thanks to going out of my comfort-zone when [I have] needed to sketch talks far from my main field. Furthermore, sketchnoting allows me to combine drawing, science, and communication in one single shot. Perfect combo!
On the other hand, people['s] feedback is just awesome. Sometimes its a speaker thanking me for the sketch, or a student telling [me] that loved to have this kind of abstract, or a colleague that didn't manage to assist and still gets an overview of how it was.
Last but not least, I'm personally enjoying so much meeting so many people [from] so many places!
What have you learnt?
Apart of trying to improve everyday the way of getting the take-home message, or get tools when it comes up to illustrate other people's projects,  I would remark that the most important thing I've learned this year is that there's an amazing community out there of scientists trying to communicate and professionals helping us to do it better, and it's a great experience to be part of it.
Do you have any advice for others who might be interested to give it a go?
My main advice I guess is "do it today". Don't wait to read, or learn, or prepare yourself or train 'enough' before. Don't wait to have the perfect sketch, the perfect lettering. Have fun, don't be judgy with your own creations (I'm still working in that XD), it's good to try to be better everyday, but that is way easier if having fun. Did I mention to have fun?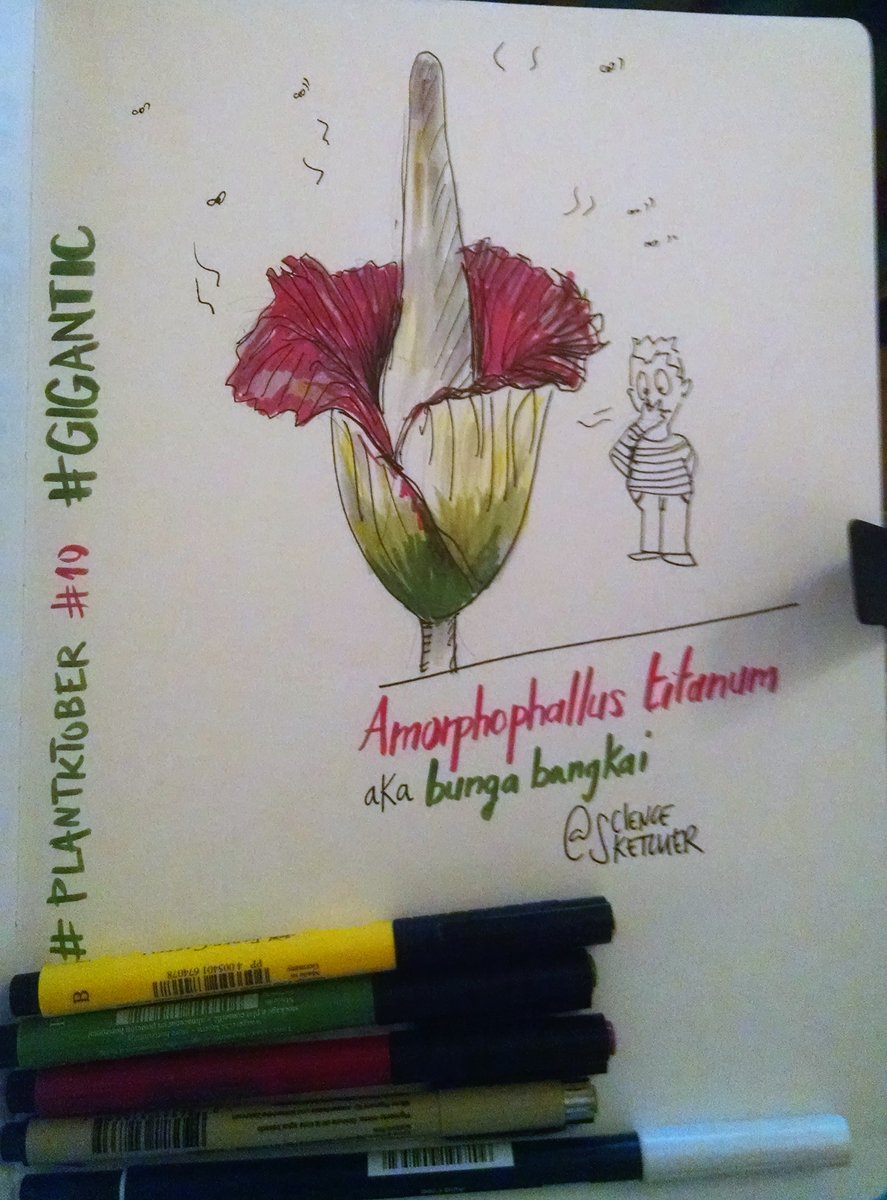 Do you have any final comments?
Thanks a lot lot for this kind invitation, I'm super happy of participating in this cool initiative, and if you let me, I would like to take advantage of this opportunity, to say a big thanks to all the amazing people that has given my sketches a warm welcome.
---
For more for information about ScienceSketcher's work, you can see her Twitter or Facebook page.